·      It is a street in the City of Westminster, London, starting at the Trafalgar Bar and run eastward to join with Fleet Street at Temple Bar. In the 13th century the Strand was lined with waterside mansions of aristocrats. The Savoy Palace, now the Savoy Hotel was such a location. However, towards the Georgian time, pickpockets and prostitutes inhabited this neighborhood. Neo- classical Somerset House, the first purpose-built office block was errected here. In the 19th century, the Strand was greatly improved and turned into a prestigious neighborhood, with the construction of the Savoy Hotel.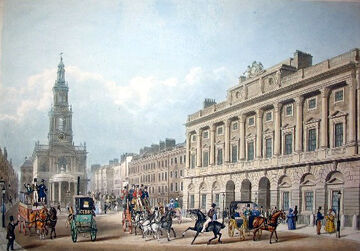 Ad blocker interference detected!
Wikia is a free-to-use site that makes money from advertising. We have a modified experience for viewers using ad blockers

Wikia is not accessible if you've made further modifications. Remove the custom ad blocker rule(s) and the page will load as expected.