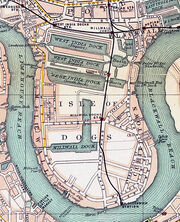 This peninsula was once called Stepney Marsh. In the 13th century the marsh was drained and in 14th century, century a chapel was built for a agricultural community there. But eventually in 1447, the river was breached and it reverted into marshland. It is possible that it was named Isle of Dogs, because it was where Henry VIII kept his dogs. In the 19th century the West India Docks was constructed and the area became an important trading center. 
Ad blocker interference detected!
Wikia is a free-to-use site that makes money from advertising. We have a modified experience for viewers using ad blockers

Wikia is not accessible if you've made further modifications. Remove the custom ad blocker rule(s) and the page will load as expected.